Status: Available - Oct 18, 2017
Neighbourhood

: Kitsilano
Cross Streets

: West 7th and Bayswater
Rent

: $1690 monthly
Deposit

: $845
Term

: Lease
Bedrooms

: 2
Bathrooms

: 1
Accommodation Type

: 2 Bedroom
Accommodation Style

: Suite in House ( Unfurnished )

Policies

Smoking

Wheelchair Access

Pets
Detailed Pet Policies
Cats OK and Pet deposit required
Features

Furnished

Hydro included

Carpet

Hardwood Floor

Air Conditioning

Other flooring

Utilities included

Partial utilities included

Dishwasher

Fridge

Stove

Assigned / Secured parking

Street parking

Garage

Access to yard

Balcony / patio / deck

View

Fitness facilities

Jacuzzi / Sauna

Swimming pool

Security system

Microwave

Washer

Dryer

Cable / Satellite

Internet connectivity

Elevator

Storage locker

Fireplace

Ground Level Suite

Basement Suite

Coin Operated Washer/Dryer

2 Bedroom Suite in House in Kitsilano, Vancouver
Description
KITS - Ground level 2-bedroom suite available immediately October/November 1, 2017. Suitable for 2 people, W/W carpet, Dish Washer, High Ceiling, Microwave, Washer & Dryer (Shared with upper suite). Clean , painted, shampooed, bathroom and kitchen newly refinished.

Walking distance to the beach, shops, produce stores, Shoppers Drug Mart, Community Ctr & schools, and Safeway. Public Transit 1 block away (B-Line and other bus routes), 10 min bus ride to UBC. Located near 7th Ave and Bayswater.

We are looking for quiet and responsible tenants, non-smokers, well behaved cat ok. Ready for move in now.

$1,690.00 per Month + Electric Utility.

Similar Suite in House For Rent in Kitsilano, Vancouver, British Columbia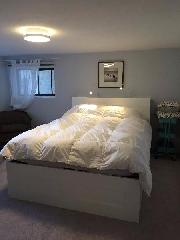 Kitsilano, Vancouver
Bedrooms: 2
Price: $2300 monthly
Available: Oct 18, 2017